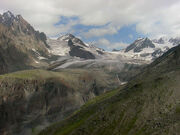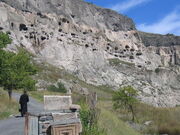 Georgia is a country in the Caucasus.
Georgia is one of the first countries to adopt Christianity (Orthodox Church since 1054)
The number of inhabitants is 4,600,000.
The flag is the red St.-Georges cross. St.-Georges is also the saint patron of several other countries like England and Catalunya.
The English singer Katie Melua (9 000 000 bicycles etc.) is Georgian by origin.
During 2008 Georgia was involved in the war against South Ossetia. (howls)
They reached to the capital of Txinval (TChimbal) but the Russians arrived and pushed them back out the region.
Tchimbal is the largest place.
(Additions 3/14)
Community content is available under
CC-BY-SA
unless otherwise noted.